Type of Durian Plants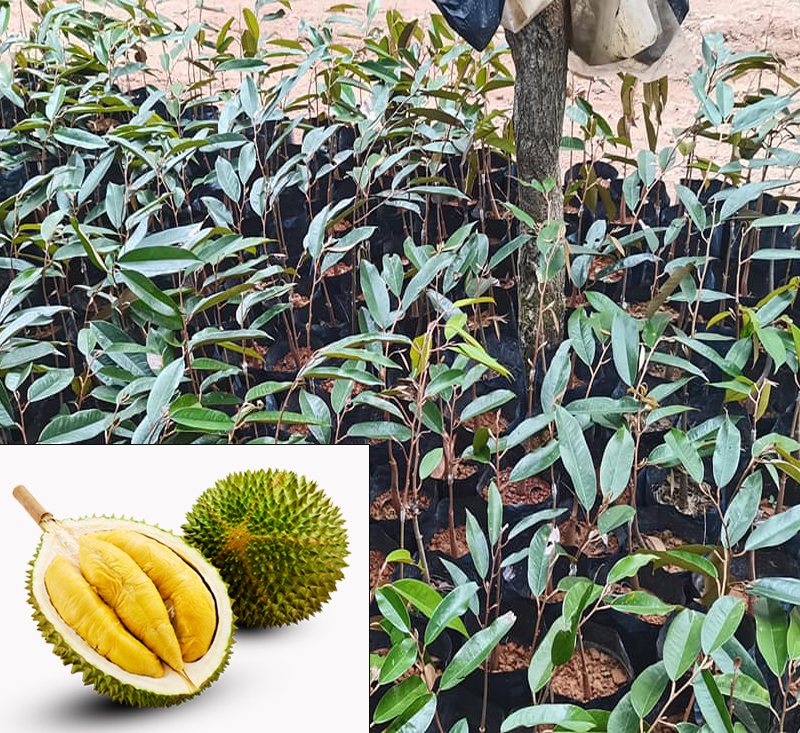 Musang King (D197)
Musang King is the most sought after and expensive Durian variety due to its appealing texture and flavour. Its flesh has a thick and creamy texture combined with a sweet flavour with a hint of bitterness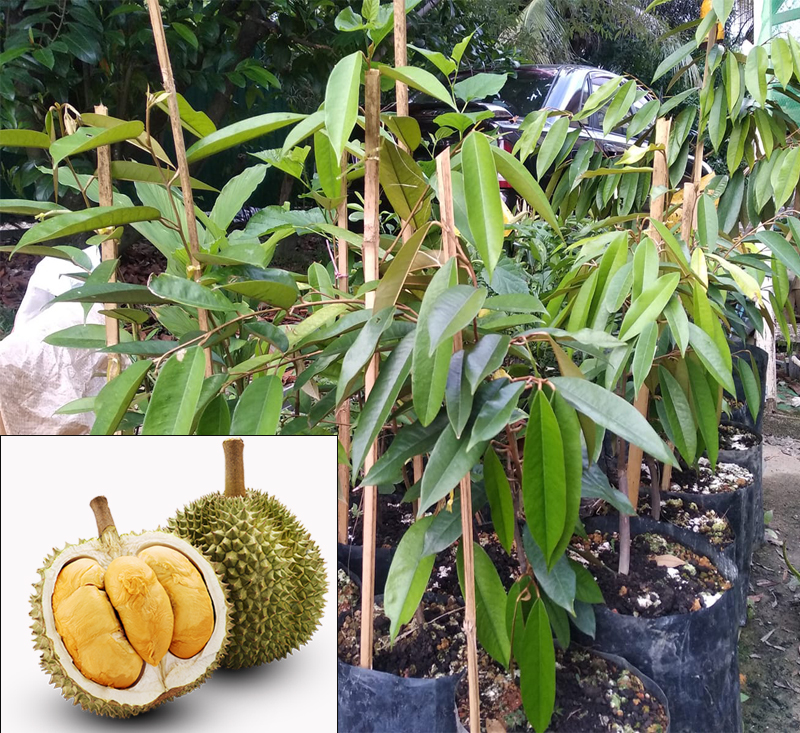 Black Thorn (Duri Hitam) (D200)
A rare breed with dark yellow coloured flesh with a velvety texture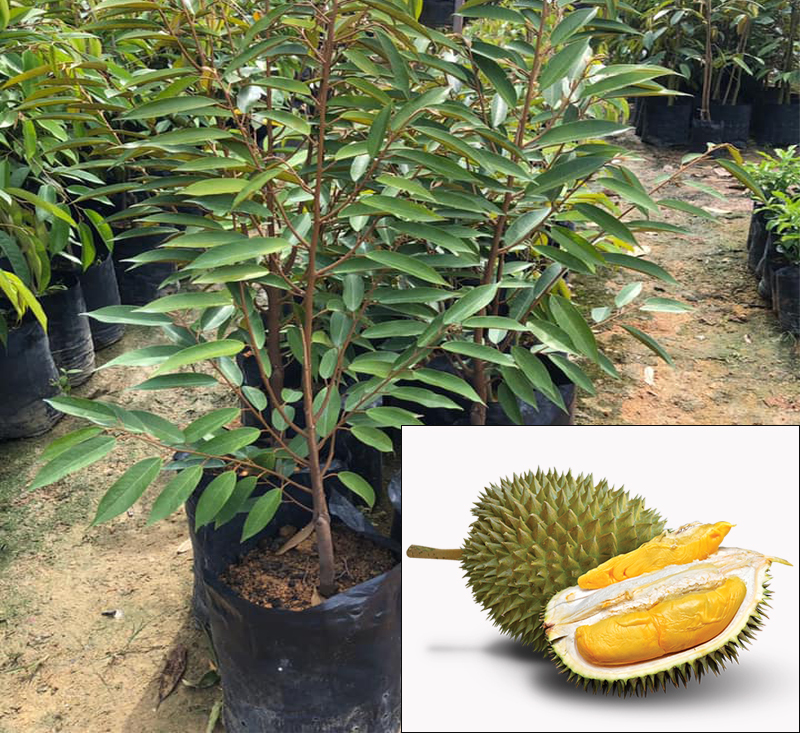 101
Its mild yet amazingly sweet aroma does not take away your chance to indulge in durians.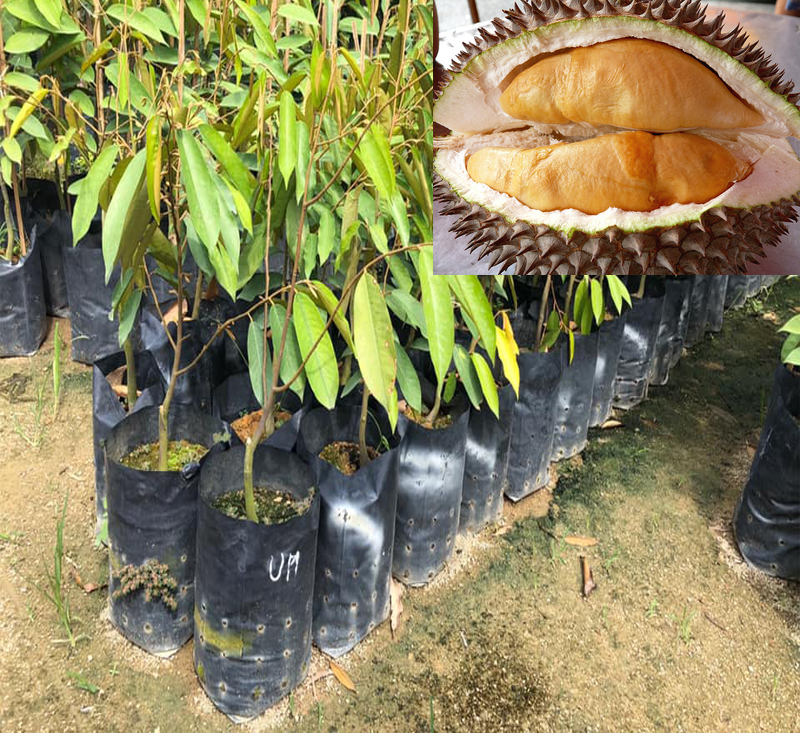 UDANG MERAH (D175)
This breed stands out with a sweet vermilllion flesh, rich and pungent aroma, and a unique sticky texture.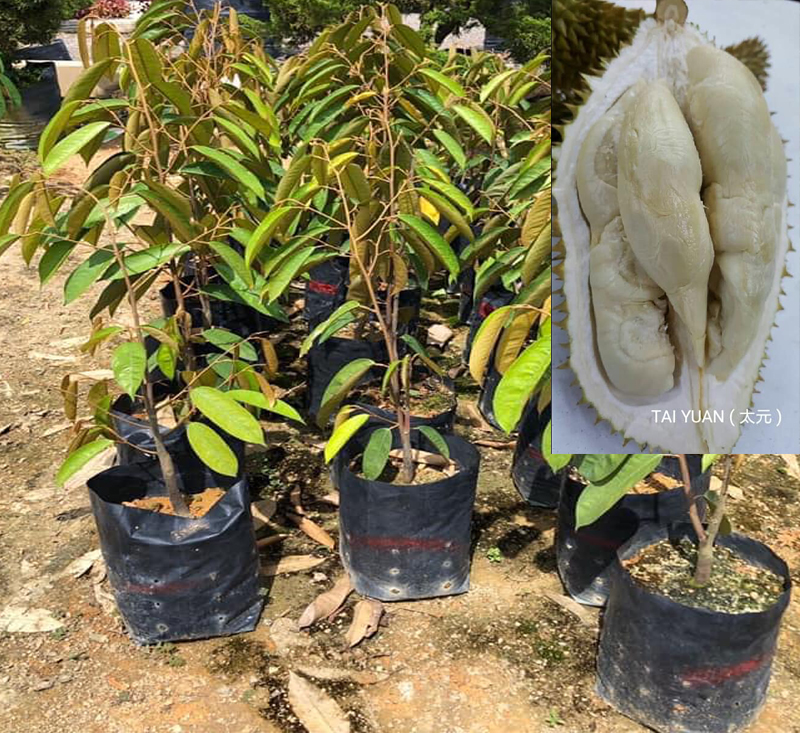 TAI GUAN
Tai Guan also called as 'Black Pearl'. Its characterized by its small, pearl-like seeds and petite exterior husk. Slightly bitter and milky tasting, the rare Black Pearl durian is a milder variant suitable for those who prefer a less surfeiting taste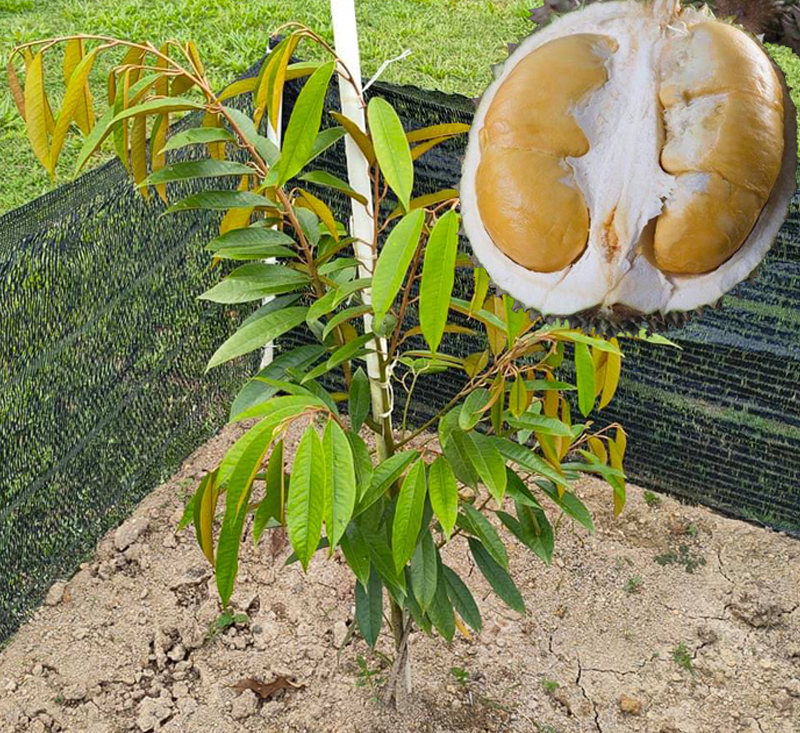 TECK KA
One of the hottest breeds with a bittersweet profile and a mild aroma.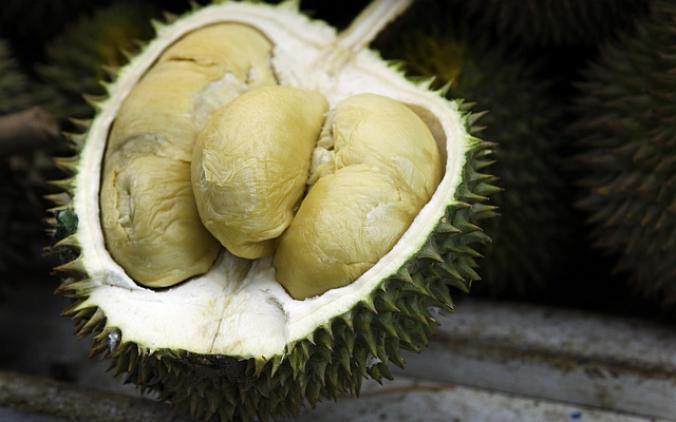 XO
Extremely tender flesh with a bitter profile, the XO durian is special for its fermented taste.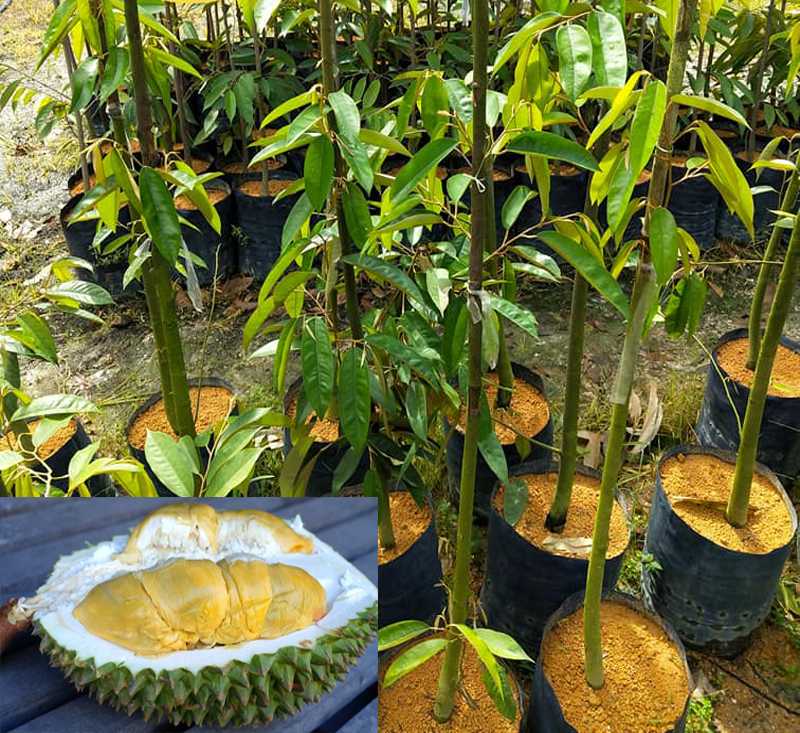 TUPAI KING (D214)
King Squirrel durian with brownish green skin features an ovate (egg-like oval) fruit with a rounded base and a sharp tip.It has an average weight of 2.1 kilograms (kg) with an average of nine seeds (cloves) per fruit and an average filling weight of 0.7 kg.The contents are yellowish orange with aroma, bitterness, texture and creamy at a moderate level in addition to a level of sweetness with an average reading of brix 39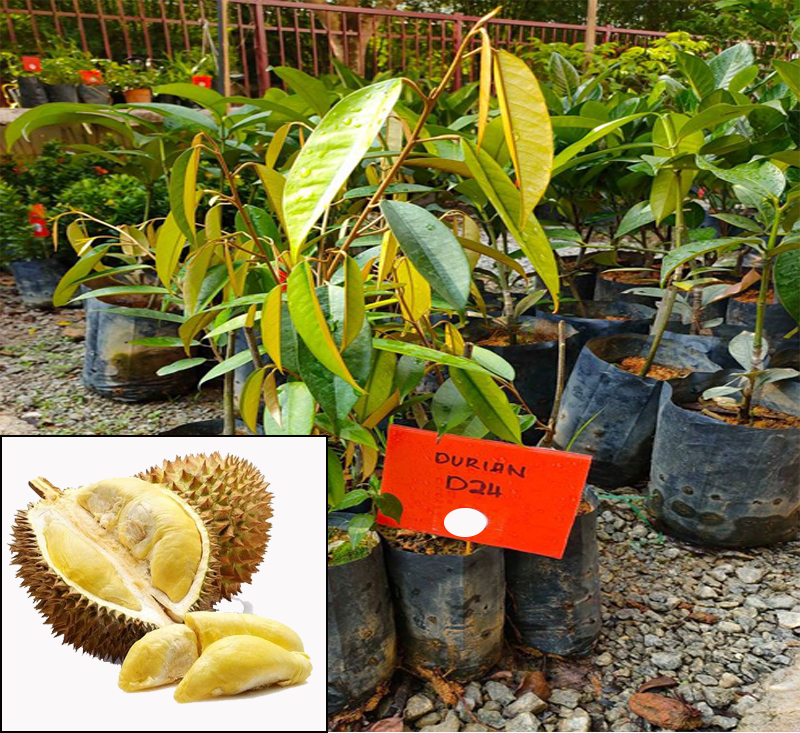 D24
D24 glows in golden yellow with its aroma and texture is amazingly rich.the outer green spiked covering has an inner fruit, which has a brown-yellowish texture. The inner fruit is mostly distinct but it can also be overlapped from the middle. In the taste, you will find it very creamy and buttery.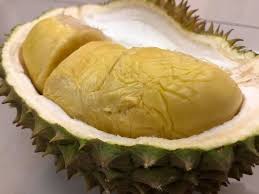 D88
This species of Durian has a distinct dry & hard texture. Therefore, it is commonly known as potato of durians.Pale yellow thorns, accompany the sweet fruit which has a mild taste. If you cannot eat Durians with a strong scent, try Durian D88.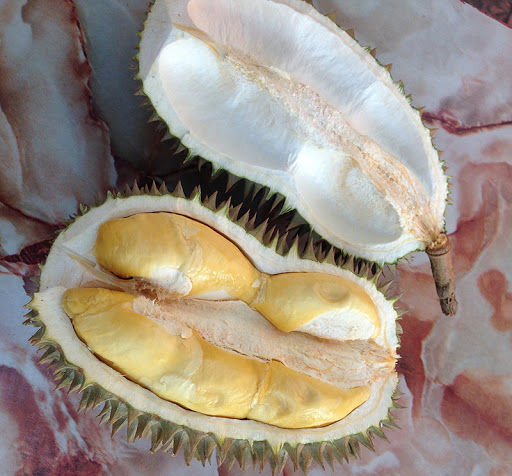 HOLO
The Hor Lor durian has an elongated shape – very much like its name in Hokkien (a gourd). This durian is another pick for people who prefer a less overwhelming flavour. The uncommon Hor Lor has ivory-coloured flesh with mild flavours and notes of sweetness, making it easily palatable.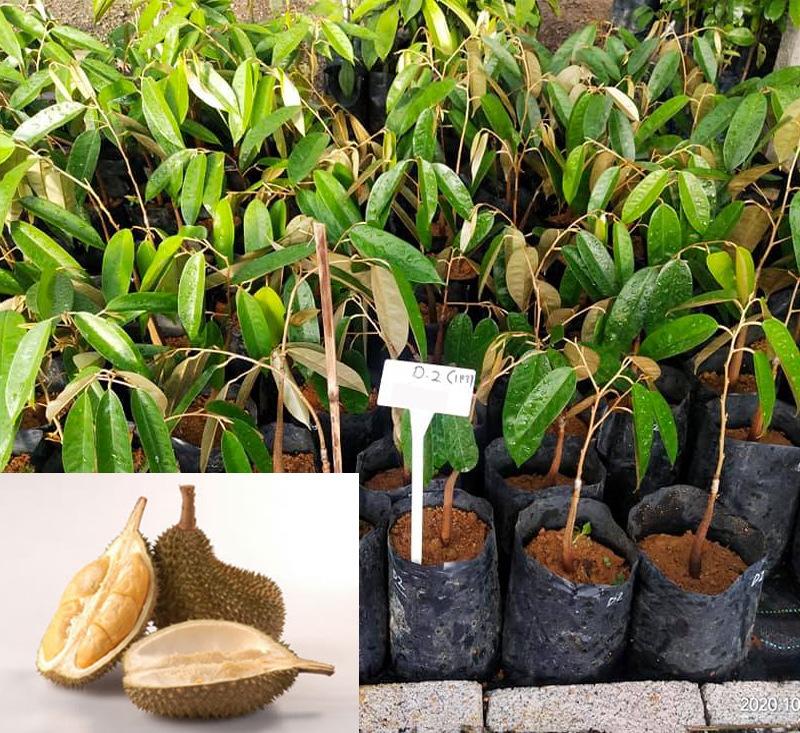 D2
D2 Durian is one of the oldest Durians of Malaysia. It was registered in 1930 and has quite a fan following all around the country.The inside fruit has puffy flesh with strawberry-like taste.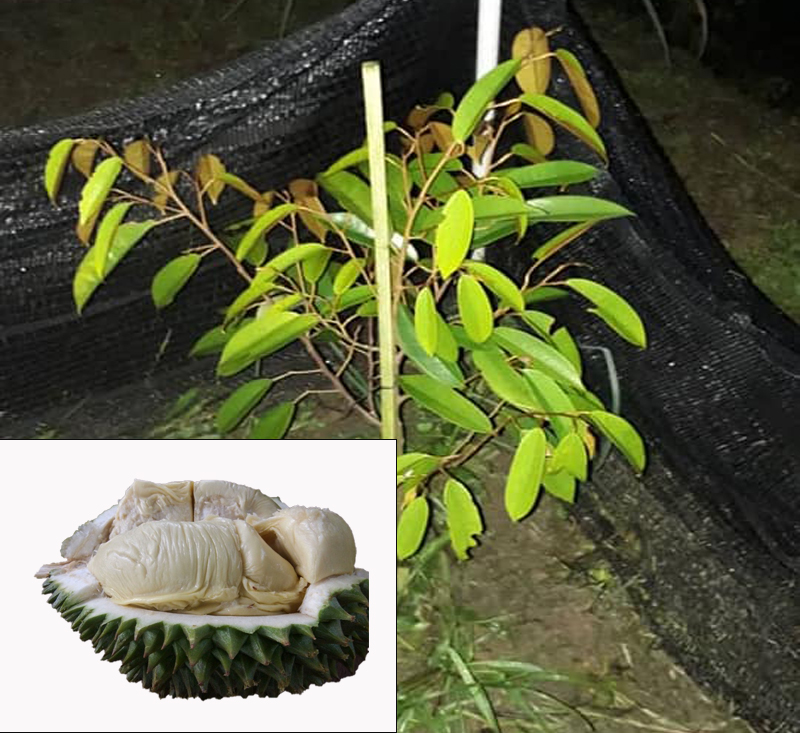 Capri
Capri is one of the palest white-fleshed durians out there. It's usually plump and pillowy, with thick wrinkles tinged in a cream-colored shadows. Capri is a medium sized durian that is always very round. Usually, the thorns are completely green,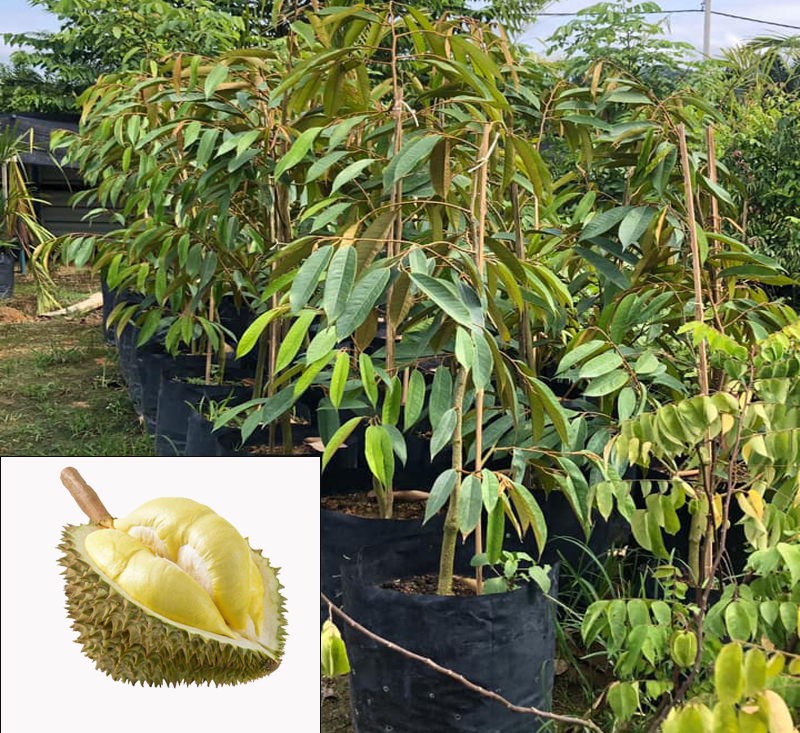 Monthong (D159)
Monthong durians are large fruits, averaging 3 to 5 kilograms, and generally have an oval to cylindrical, tapered shape, sometimes found with irregular bumps, creating a heart-like appearance. The fruit's surface is covered in pointed, densely packed triangular spikes and ranges in color from pale green, light brown, to golden-brown. Underneath the spiny surface, there is a white, spongy interior with multiple chambers encasing lobes of flesh. Each flesh lobe has a semi-firm surface, revealing a thick, creamy, and buttery-soft interior with small, hard seeds. Monthong durians have a mild aroma compared to other durian varieties and a rich, sweet, warm, and complex flavoring described as a blend of vanilla, caramel, pepper, and sulfur notes